广州绿高电子科技有限公司
E-Mail:order@boblaser.com
TEL:+8602066616299
5mw exfo otdr BOB-VFL650-1S
5mw exfo otdr BOB-VFL650-1S
Model NO. BOB-VFL650-1S
Price:USD 21.00-41.00 / pieces
Minimum order quantity:5 pieces
Accept Min order:Yes
Supply Ability:2000 pieces / Week
Country of Origin:GZ
Product Description
Place of Origin:CN;GUA
Brand Name:BOB
Model Number:BOB-VFL650-1S
fiber fault locator:BOB-VFL650-1S
Central wavelength:650nm±10nm
Emitter type:FP-LD
Output power:5~20mw
Optical connector:2.5mm universal connector
Operating mode:Both CW and Pulse available
Pulse frequency:2Hz to 3Hz / 9Hz
Dimension:25 x 195mm
Weight:169g (without battery)
Certification:CE ROSH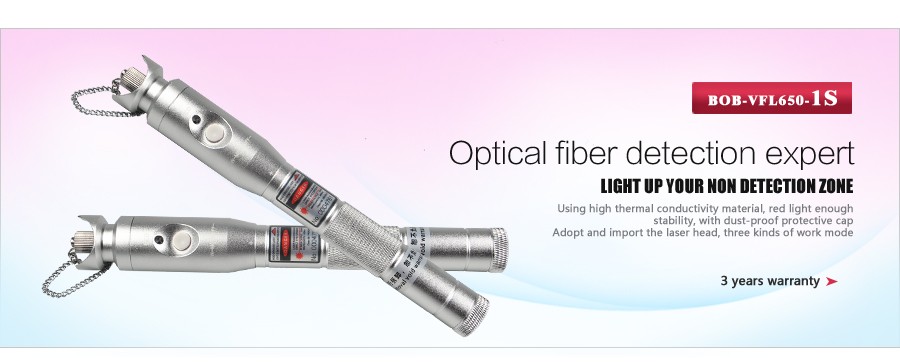 Description
The pen- type visual fault locator is specially designed for field personnel who need an efficient and economical tool for fiber tracing, fiber routing and continuity checking in optical networks. And it is the essential test tool for the FTTH project. This visual fault locator is with so many advantages, such as long woking life, rugged, portable, beautiful appearance and so on. It is the best choice for the field personnel.
Feature
1.2.5mm universal connector,for 1.25mm connectors,FC(male)-LC(Female) adaptor also can be provided on request
2.Operates either in CW or Pulsed mode with constant output power
3.Low battery warning
4.Long battery life (up to 60 hours)
5.Drop-resistant and dust-proof design of laser head
6.Laser case ground design prevents ESD damage
7.Portable and rugged
8.Easy to use
9.360° rotation protecting ring
Funtion
1.Find breakpoints, poor connections, bending or cracking in fiber optic cables
2.Find faults in an OTDR dead zone 
3.Is used for end-to-end visual fiber identification. 
Application
1.Maintenance in telecom, CATV
2.Test Lab of optical fibers
3.Fiber routing and continuity checking in optical networks
4.Other fiber optic measurements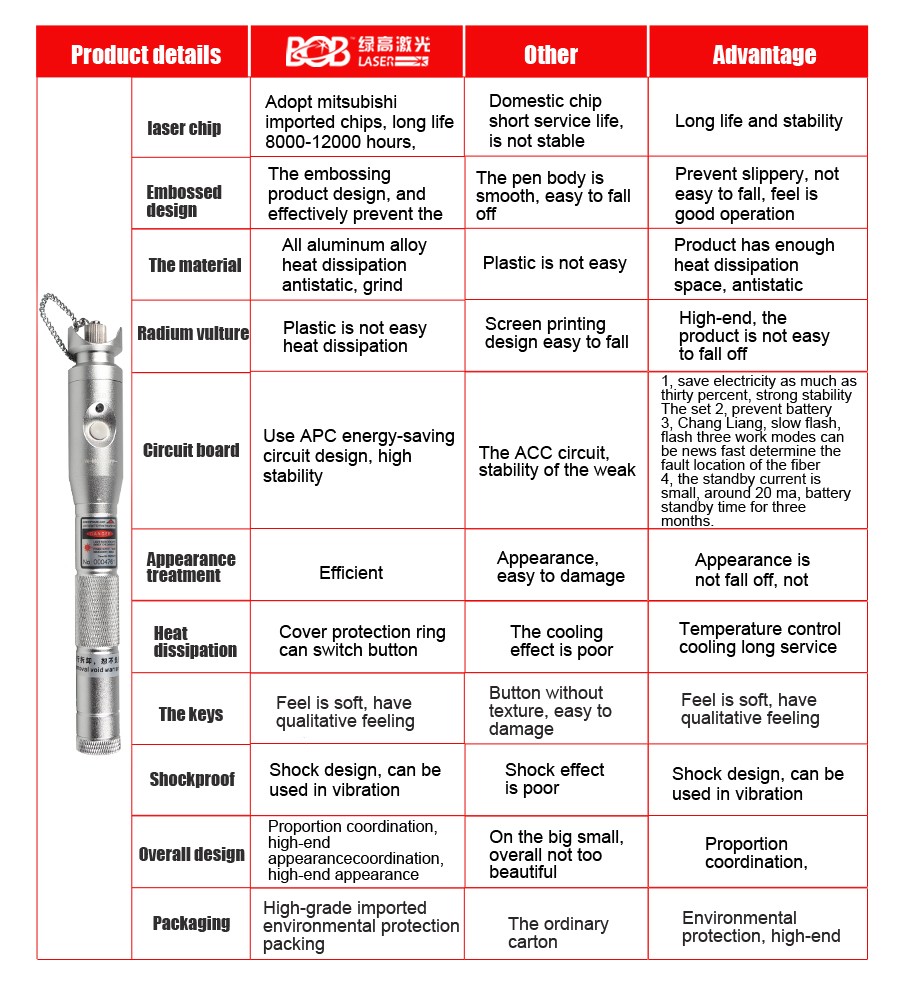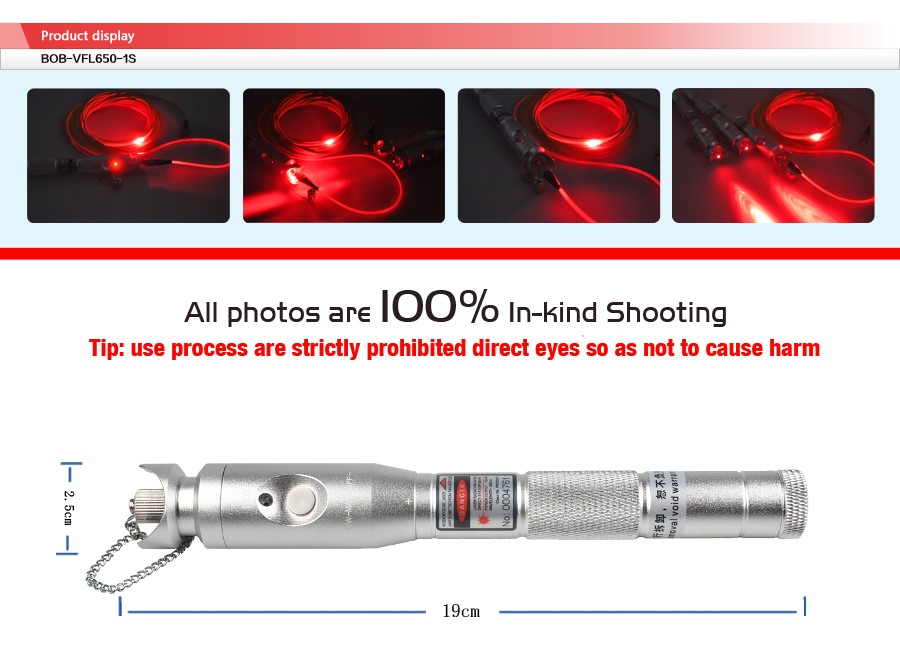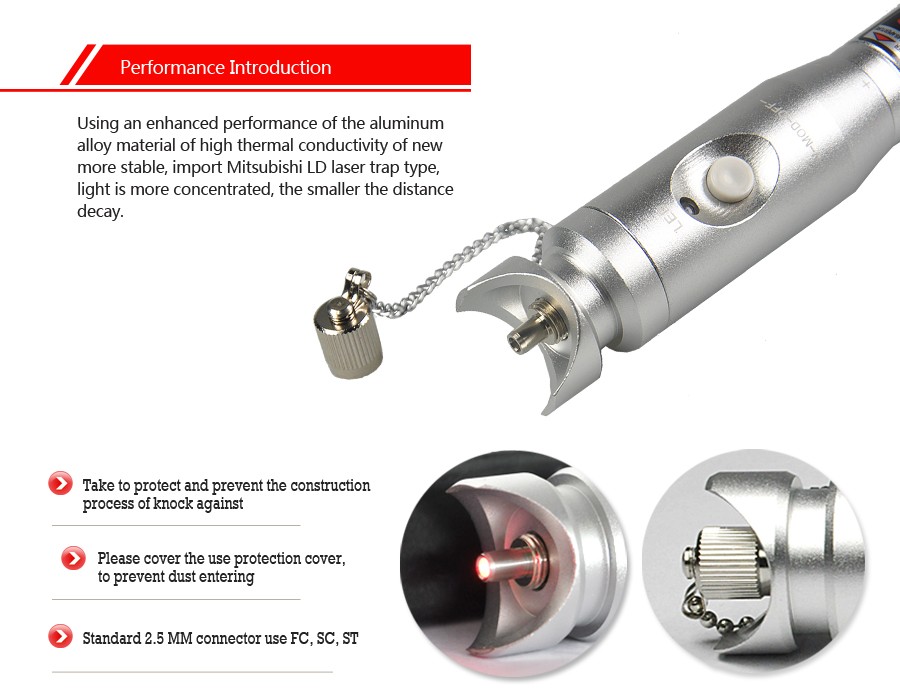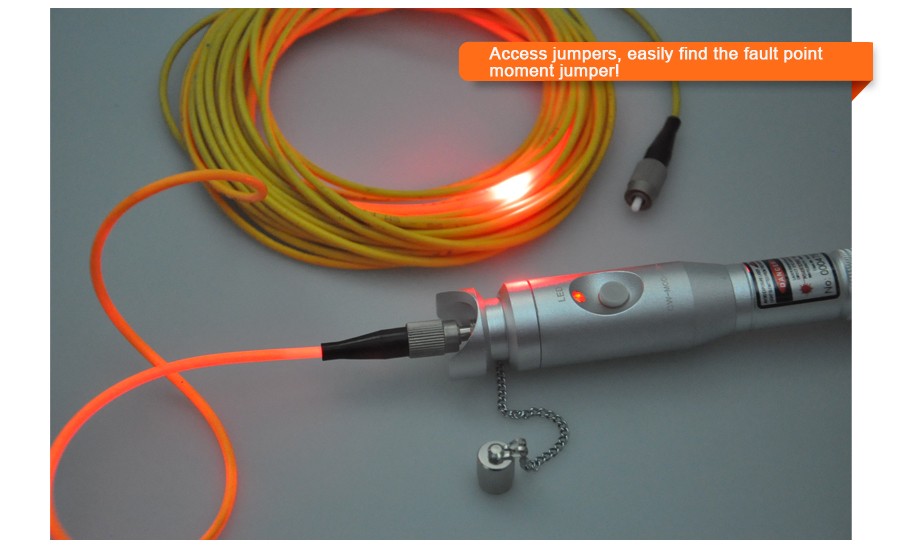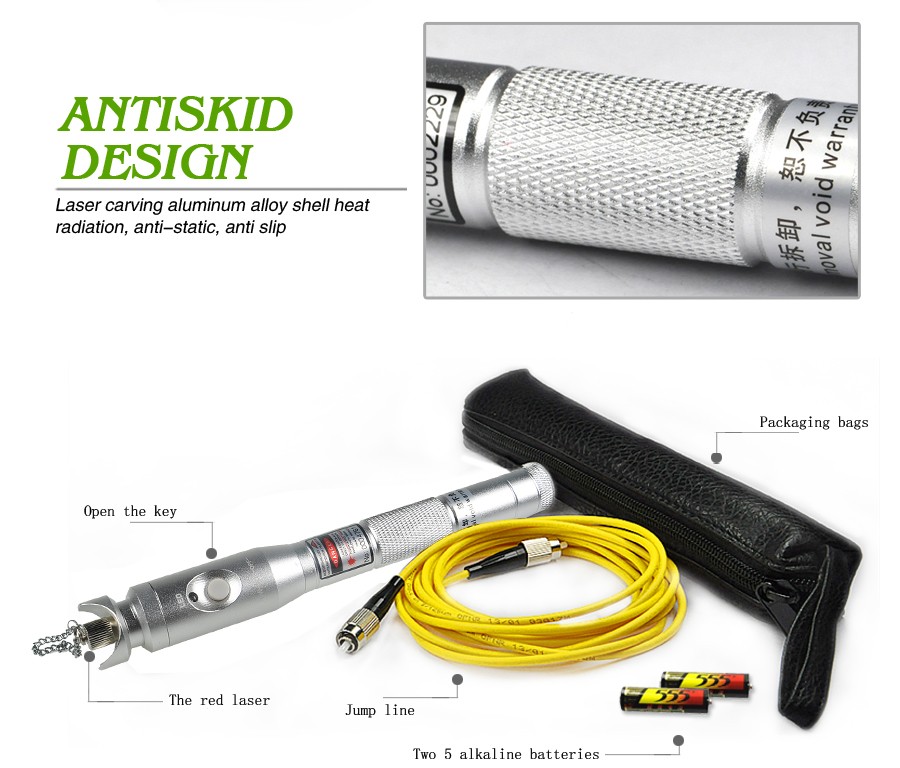 Model

BOB-VFL650-1S

Central wavelength

650nm±10nm

 

Fiber Type

SM / MM

Output power

5mw

10mw

20mw

30mw

Laser Range

≥5km

≥10km

≥20km

≥30km

Optical connector

2.5mm universal connector, for 1.25mm connectors, FC (Male)-LC. (Female) convertor can be provided on request

Power supply

2 AA alkaline batteries 

Case Material

Aluminum

Operating temperature

-20°C to 60°C

Storage temperature

-40°C to 85°C

Dimension

195 x 25mm

Weight

165g (without battery)
Method of use
1. Screw the end cap from the pen, the battery will be prepared into the pen, battery cathode to the end cap, the positive on the pen body is positive;(note: please do not turn pen and pencil tail into the battery)
2. Put the pen and pencil body connection installed, open the dust cap, press the control switch one time, observe the interface has a red light, luminous tube on at the same time;(note don't eyes were light interface, so as not to damage the eye)
3. Press the control switch again, observe the light into a pulse mode, the indicator light-emitting tube and out of sync pulse light;(pulse frequency in 2-3 hz or 9 hz)
4. Press the control switch again, light source closed, no light output, at the same time indicator light pipe out;(switch mode to: continuous - pulse - closed - continuous cycle mode)
5. When detecting insert tested optical fiber optical interface, press the control switch at the same time, choose the output light work mode (continuous or pulse);
6. After use, build the dust cap, do not use for a long time, please take out the battery, in order to avoid battery rot, damage the light source.
Maintenance and matters needing attention
1
.
 Laser and harmful, especially to pay attention to protect the eyes, 
when 
laser work
s
, avoid direct laser eyes;
2
.
 In general
ly
, the higher the temperature, the shorter the life of laser, when used to avoid high temperature working environment;
3
.
 Rhe work of laser optical fiber head should be cleaned;
4
.
 When used, the optical interface and the interface needs to detect light and light pull plug;
5
.
 Don't use the light source, would you please put dust cap to avoid dust fall;
6
.
 Should remove the battery when not in using;
7
.
 Please do not remove the end cap and any part of the dust cap, remove shall not be responsible for damage caused.
Bob LASER CO., LTD is a factory specialized in laser sight and a series of laser products. Our products has safe quality and competitive price and complete after-sale service system .